Czshevinah Hae Alejandro | Miss Philippines Earth 2011 Profile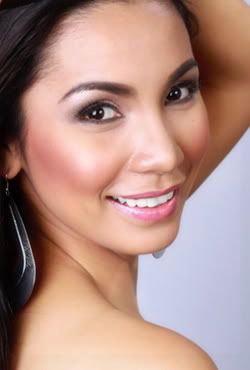 Miss Philippines Earth 2011 Beauty Pageant
Candidates / Contestants

Miss Lipa City
Czshevinah Hae Alejandro

Age: 24
Height: 5'6"
Weight: 120lbs
Vital Statistics: 34-25-37

* Czshevinah Hae Alejandro won the Miss Lipa Tourism 2010 contest.



BIO:
DESCRIBE YOUR CHILDHOOD/GROWING YEARS (8-13 Years old)
My childhood was pretty much the same as most girls. I played girly games like "bahay-bahayan" and "teacher-teacheran" and also boy games like "tumbang preso" and "touching ball". I was left alone at home because my parents were working and my siblings were studying. I learned to cook as early as 7 years old. I was riding a jeepney on my own and did my school stuffs with little or no supervision of my parents. I was raised in a Christian family and I was taught that I should do everything for the glory of the Lord.

WHAT LESSONS DID YOU LEARN FROM YOUR CHILDHOOD/GROWING YEARS?
I have learned that growing up means learning from your mistakes. Moreover, I have learned to become independent like saving money to buy the things I want. And lastly, I have learned to trust in God when things get blurry.

WHAT IS YOUR MOST MEMORABLE MOMENT?
My most memorable moment is when I saw the underwater of Anilao, Batangas. I have never seen such beauty that God created. I have seen colorful corals, awesome sea creatures and beautiful plants. From that moment on, I promised to myself to get my open-water license this year for me to see more of the marine biodiversity.

WHAT IS YOUR ENVIRONMENTAL ADVOCACY?
I believe that recycling, reducing and reusing are not enough to save Mother Earth. I think we should all start by literally refusing the use of non-biodegradable materials every day. For example when we go to the supermarket, we can just use reusable bags instead of using a lot of plastics. Also, we can refuse using styrofoams and plastic utensils when we eat at fast food chains. I believe that these small ways could create more awareness about human activities that cause great environmental impact.
* Back to Miss Philippines Earth 2011 Delegates:
Batch 1
|
Batch 2