Christine Kate Adi | Miss Philippines Earth 2011 Profile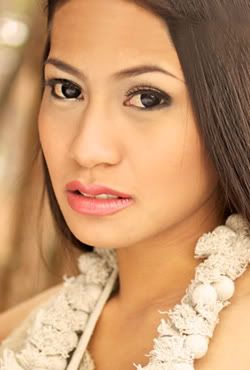 Miss Philippines Earth 2011 Beauty Pageant
Candidates / Contestants

Miss Baguio City
Christine Kate Adi

Age: 22
Height: 5'8"
Weight: 121lbs.
Vital Statistics: 33-23-36



BIO:
DESCRIBE YOUR CHILDHOOD/GROWING YEARS (8-13 Years old)
I was a child full of hope, dreams, ambitions and aspirations in life. I was the family's so-called dreamer. My family is not wealthy but I grew up in a complete and happy family with loving parents. I saw my parents' hardships when they were raising us. At a very young age I was already determined and inspired that someday I will make my parents proud.

WHAT LESSONS DID YOU LEARN FROM YOUR CHILDHOOD/GROWING YEARS?
I have learned in my childhood days that FAILURE is not a negative thing. On the contrary, it is a positive driving force for people to be stronger and better. There's always a second chance for everyone, use it to make a difference in your life.

WHAT IS YOUR MOST MEMORABLE MOMENT?
The most memorable moment in my life was when I finished Nursing in college and passed the nursing's licensure examination. I saw my parents and grandparents teary-eyed with great happiness on their faces. Also, this privilege to be the part of the Ms. Philippines-Earth 2011 is an experience I know I would always treasure.

WHAT IS YOUR ENVIRONMENTAL ADVOCACY?
Instead of using a car or riding public transportations, just walk when you travel short distances. By doing so, you would contribute in lessening air pollution and even save on gasoline. Let us make a change while we still can because the room of chances might ran out if we don't act now.
* Back to Miss Philippines Earth 2011 Delegates:
Batch 1
|
Batch 2