Rolene Strauss - Miss SA 2011 Finalist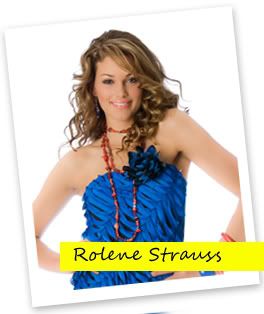 Miss South Africa 2011 Pageant

Rolene Strauss

Rolene Strauss is from the Mpumalanga province and matriculated in 2010. Speaking English and Afrikaans, Rolene is in her first year of studying Medicine and believes she has the characteristics to become an ambassador of South Africa. She is a model for an agency and also holds the title of Miss Diaz 2010 – 2011. She enjoys staying active and has blue-green eyes.

Rolene is thoroughly looking forward to participating in the Miss South Africa pageant and is excited to share the experience with the other finalists.
*
Miss South Africa 2011 Delegates