Miss Universe 2010 Preliminary Review by William Prendiz de Jurado
The
Miss Universe
2010 Beauty Pageant Presentation Show / Preliminary Competition was held on August 19 at the
Mandalay Bay Events Center, Las Vegas, Nevada, USA
.
All the 83 gorgeous contestants paraded in
Swimsuits
and
Evening Gowns
. Here is the Presentation Show Review by William Prendiz de Jurado from Puerto Rico, who is a pageant veteran for over 52 years.
(Reviews are not in any particular order)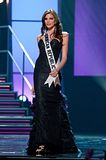 Miss Dominican Republic
Eva Arias

During the rehersals, she wore a different gown, goldish, it clung to her killer body, with very looooong legs, at that moment, she was #1 for me.....fast forward, last nigth, she wore a black gown, and it did not shine her at all. I was very disappointed, so she was no longer, high on the latter of fame-and-fortune....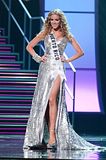 Miss Puerto Rico
Mariana Vicente

Has the 'MOST BEAUTIFUL FACE AND EYES', of this years pageant! Her cat walk, in her stunning red gown, was fabulous! Many think, that one has to be 20 feet tall, to do anything in any pageant, but she is fabu, as far, as I am concerned. Her face is so classic, pretty!
Miss Ireland
Rozanna Purcell

Has the second MBF-and-E. Also a lot of poise, and walks very well and knows how to pose for a camera! She will do well, on Monday night!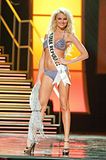 Miss Slovak Republic
Anna Amenova

Is the BEST of the blonds this year, a very fresh look, very happy eyes, she could tone down her blond hair though! Just my own, personal opinion!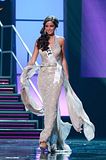 Miss France
Malika Menard

She will need a lot of Premium Gasoline on the final night...if she has no personality or sparkle, she will faulter on stage. As we all know, this is a major problem of ALL non Latin delegates, and is why the Latinas do so well in pageants!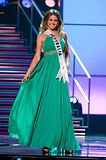 Miss Australia
Jesinta Campbell

Has the 'girl-next-door' look, loads of personality, and when she opens her mouths, the judges, will look for their 9 number button on their computers, when giving her their votes..... I have heard her speak and she does it sooo well!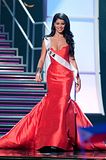 Miss USA
Rima Fakih

Another good speaker with personality----I personally feel, she will WIN the whole show, on Monday night. Not that she is a drop-dead-beauty, but she also has the X-FACTOR. She wore her gown very well. Heavy in the leg department, as MANY of the other delegates. When they are at the gym, they need, not to work on them too much! She has beautiful, black hair----------I am SICK and TIRED of the typical American blonds---------BORING now!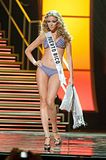 Miss Puerto Rico
Mariana Vicente

When I saw her, for the first time, during the Miss USA pageant, I thought she was just a 'little girl' with thin blond hair, BUT told my friends then, she will most likely appear different on stage, and she DOES. She has been studied, prepared, taught, experimented in all avenues of beauty. They must have combed each hair on her head, to know, what style is the best for her, and it worked for her! Her National Director, Miss PR 1995, still looks like a MU herself, very classy!
Miss Haiti
Sarodj Bertin

Is also very classy, not so pretty, but she has the X-FACTOR, loads of personality and very intelligent and a good speaker. If she makes the 15, then the final 5, when she opens her mouth, the judges, will look for number 9.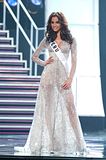 Miss Peru
Guiliana Zevallos

Not so pretty, but she comes off very well on stage, and was very poised in her gown....let's not count her out, for Monday night. She reminds of of actress, Salma Hayek.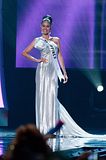 Miss Philippines
Maria Venus Raj

Loads of poise, do not like the HUGE BOW on one of her shoulders, of her gown----it does nothing for it! She had the support of the audience! I feel, that she is being very POSITIVE and can taste the MU crown on her head! 'Power-of-the-mind', you know.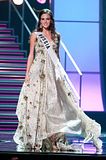 Miss Russia
Irina Antonenko

The most beautiful gown of the entire night.....very elegant!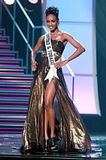 Miss Trinidad & Tobago
La Toya Woods

She is for me, the 'biggest' disappointment this year. In her pre-pageant-fotos, I thought she was fabu, I thought her gown was tooooo dark for her, and did nothing for her, horrible....I am very sad about this.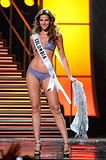 Miss Colombia
Natalia Navarro Galvis
and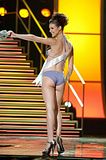 Miss Venezuela
Marelisa Gibson

These two countries are power-house delegates, and for me, one is not any better-than-the-other. Many rave about Colombia, and for me, she is very PLAIN looking. Venezuela, smile was very studied, and she has short, fat legs. (I noticed that MANY of the girls, have muscle legs, in comparison to the tops of their bodies, they should stop working so hard on them)!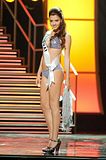 Miss Uruguay
Stephany Ortega

Is a silent beauty, meaning you don't notice her, until she appears on stage. She may make the 15--------? Who knows?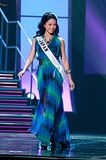 Miss Japan
Maiko Itai

Has a beautiful gown, and does the runway walk very well!
Miss Brazil
Debora Lyra

Needs A LOT of make-up to sparkle on the stage!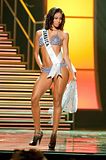 Miss Jamaica
Yendi Phillips

Very pretty black girl, she sparkles when she smiles.
Miss Spain
Adriana Reveron

To my great surprise, on stage and camera, she is NOT pretty at all----------when I saw her in person and close, she is 'BEAUTIFUL' go figure...????
*
Las Vegas, Nevada, USA will host the pageant
* Miss Universe 2010 Candidates
Batch A-F
/
Batch G-O
/
Batch P-Z
* Preview:
National Costumes
/
Evening Gowns
*
Schedule of Events
*
Early Favorites / Top Picks
*
Media Tour & Arrivals
*
Hosts (Final Telecast)
*
Guest Performers
* Photos:
Candid
/
Swimsuit Candids
*
"Welcome to Las Vegas" photoshoot
*
Lemonade Stand Fund Raising
*
Controversy on the photoshoot
*
Official Swimsuit Poster
* Official Portraits:
Close-up
/
Glam
/
Gown
/
Swimsuit
*
National Gift Auction
*
National Costume Show
* Judges:
Preliminary
/
Finals
*
Chicken Wing Eating Contest
* Preliminary Competition:
Videos
/ Photos:
Swimsuit
|
Gowns
/
Review
* Crowning:
Awards
/
Top 15
/
Top 10
/
Top 5
/
Winner
*
Watch the Pageant
*
A day after the Crowning