Aline Decock (Belgium) - Miss Earth 2011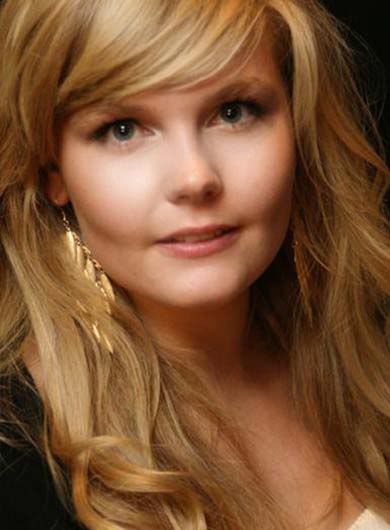 Miss Earth 2011 Beauty Pageant
Candidates | Contestants Profile

Miss Belgium

Aline Decock

Age: 23

Height: 170cm

Notes: Aline Decock is the reigning Miss Earth Belgium 2011.

Environmental Views:

What environmental project will you create to promote the protection of Mother Earth and why?

I think it is very important to teach children about our environmental problems. The children are the future, and it seems that the generation of today doesn't care ,or isn't listening to the world. We should let those kids grow up with the knowledge about these problems ,and we should evolve them in actions to protect the earth. Otherwise I would also like to wake up those who aren't listening or ignoring the problems today.

What makes you proud of the country you are representing, and what can you promote about your country?

I am very proud to represent Belgium. Our county had a great cultural background , people from the whole world come to visit the beautiful old Bruge and Ghent. The Belgian chocolate is also very famous ,it is really the best chocolate in the world .Eating it ,makes me happy. Belgium also had great artists during the centuries , from van Eyck till Wim Devoye,all of them gave us culture ,gave our history an expression. Also the fashion industry in Belgium is from a very high quality ,watch the shows from Walter Van Berendonck, Dries Van Noten, Ann Demeulemeester , Dirk Bikkembergs, Marian Yee and dirk van Saene . In the 80s they where called the Antwerp 6. And there is more upcoming talent. Not only in fashion and art, but also in tennis is Belgium an outshining county. Kim Clijsters and Justine Hennin, played on the top of the world. We have a small county, but with so much to offer. I am proud to represent Belgium for Miss Earth!

Describe your childhood/growing years.

As a child I always had a lot of friends, but still I was a shy girl. Speaking in the class was not really my thing. I was always very creative, drawing and painting was my favorite activity. It was in high school, where I followed art ,that I found the real me. And became a confident woman.

What lessons did you learn from your childhood/growing years?

I learned that I had to take every change that was given to me, that nothing is impossible if you really go for it. When I was a kid my biggest dream was to become an archeologist ,but they told me I wasn't smart enough ,so I chose an other path. When I was 14 ,my biggest dream was to become an architect. And again, they told me ,I wasn't smart enough. But this time , I decided to ignore them, en I followed my dreams. I went to an architecture school ,and finished with great distinction. Last year, I completed my university studies in architecture . And this year, I am specializing myself in the urban architecture. You see, I followed my dreams, and with hard work ,you can get anywhere you want!

What is your most memorable moment?

It was that moment I received my first diploma . I was graduated in architecture with great distinct ,my parent where so proud of me, and I was proud of myself. It was the first time in my life I really reached something. And everyone who told me I wasn't smart enough to do this, was wrong! Because I have worked very hard, gave everything I had and I reached the finish with honor.

What is your environmental advocacy?

My slogan for the environment in Belgium is; There are one million lightening poles along our roads , now we want one million trees.

That's because the Belgium road are full of lightning poles, every 5 meters there is one, on every road! That against the less and less trees you see.
*Back to Miss Earth 2011 Delegates:
Batch A-D
|
Batch E-K
|
Batch L-P
|
Batch R-Z