Miss World 2010 Panel of Judges
Here are the selected panel of celebrity judges for the
Miss World
2010 beauty pageant will be held on October 30 at the
Crown of Beauty Theatre, Sanya, People's Republic of China
.
All the judges are former
Miss World
titleholders to celebrate it's 60th year.
The Judges: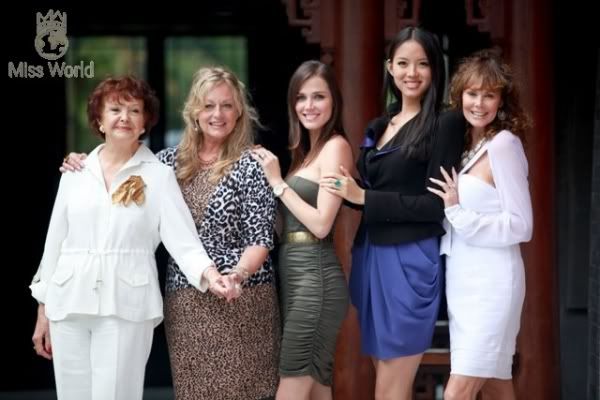 *
Denise Perrier Lanfranchi (France), Miss World 1953
Denise Perrier Lanfranchi was the third Miss World. She enjoyed global fame as a model and fund-raiser and opened a school for models. She worked in TV and film before taking on civic roles in her native France.
*
Ann Sidney (United Kingdom), Miss World 1964
Ann Sidney's reign took her around the World five times and saw her join Bob Hope on his USO tours of Asia. This led the Britishactress and singer into further work for good causes.
*
Mary Stavin (Sweden), Miss World 1977
Mary Stavin is a Swedish actress and model who played in two James Bond films: Octopussy and A View to a Kill. In addition to acting, she released an exercise album with George Best.She lives in Los Angeles.
*
Agbani Darego (Nigeria), Miss World 2001
Nigerian born Agbani Darego made history as the first black African to win the crown. She has grown into a versatile and impressive woman. Her career has developed as an international top model. She lives in New York.
*
Maria Julia Mantilla Garcia (Peru), Miss World 2004
Peru's brightest star Maria Julia Mantilla is a favourite of everyone who meets her. Maju used her reign to visit the Himalayas where she climbed a mountain for charity. She is a successful model in the US, UK and Europe.
*
Zhang Xi Lin (China), Miss World 2007
Chinese Zi Lin Zhang obtained a degree in business administration. She has an extremely successful career as a
fashion model
with campaigns for luxury clothing,
jewellery
,
beverage
and watch brands as well as gracing catwalks in Paris and Berlin.
*
Ksenia Sukhinova (Russia), Miss World 2008
Blue-eyed Russian Ksenia Sukhinova has beauty and brains, studying cybernetic systems at university. She is a keen sportswoman, competing in swimming and the biathlon. She is now a developing her career as a successful model.
*
Miss World 2010 Coverage
*
Vanessa Goncalves, Miss Miranda wins Miss Venezuela 2010