Fatima Jimenez will represent Spain in Miss World 2010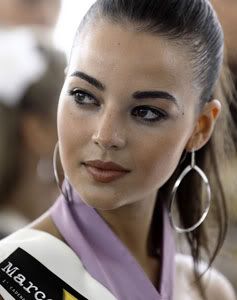 21 year old Fatima Jimenez Triguero was chosen to represent
Spain
in
Miss World
2010 beauty pageant in
Sanya, People's Republic of China
on October 30.
Contrary to what had been speculated that Miss Spain 2010, who will be crowned on September 25, would represent
Spain
in
Miss World
2010, the Spanish organization informed that Miss Spain World 2010 is Fatima Jimenez Triguero, Miss Sevilla 2008.
Fatima Jimenez Triguero is from Los Palacios and stands 1.74 m tall. She is a prefessional model.