Miss Brazil Universe 2010 Winner is Miss Minas Gerais, Debora Lyra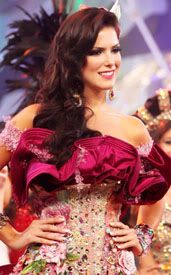 20 year old
Debora Moura Lyra, Miss Minas Gerais
won the Miss Brazil Universe 2010 beauty pageant held on May 8 in Sao Paulo. She was crowned by
Miss Brazil Universe 2009, Larissa Costa
.
Debora Moura Lyra is a professional model, stands 1.80 m in height and will compete at the
Miss Universe
2010 pageant later in the year.
The 1st run-up was 18-year old
Miss Amazonas, Lilian Lopes Pereira
. The 1.75 m beauty will represent Brazil at the Miss International 2010 contest in Chengdu, China, in October.
The 2nd run-up was
Miss Parana, Maryla Bernardt
, who will compete at the Miss Continente Americano pageant in Ecuador, next September.
Completing the Top 5 where the contestants from
Miss Paraiba, Natalia Taverira Mota Alves
and
Miss Distrito Federal, Lidiane Lucena de Matos
.
The reigning
Miss Universe 2009, Stefania Fernandez
attended the event as special guest.
Official Candidates of Miss Brazil Universe 2010