Monika Lewczuk of Poland wins Miss Supranational 2011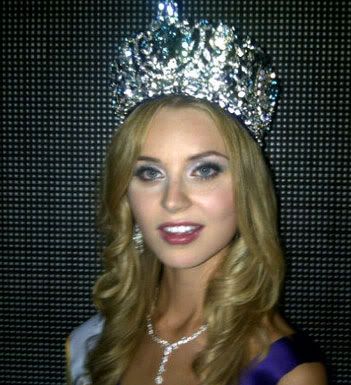 Miss Poland,
Monika Lewczuk
won the 3rd crown of Miss Supranational held in her country in the city of Plock. She received her crown by the outgoing titleholder, Karina Pinilla.
The new Miss Supranational 2011, Monika Lewczuk won a cash prize of USD 25,000. She's 23 years of age, stands 1.77m tall, and works as a model. A pageant veteran, Monika is the 1st run-up in Miss Polski 2009 and represented her country and was 1st run-up in Miss Globe International 2009.
Miss Supranational 2011 Complete Results:

Winners
* Miss Supranational 2011: Poland, Monika Lewczuk
* 1st run-up: Belarus, Liudmila Yakimovich
* 2nd run-up: Puerto Rico, Valery Velez Cuevas
* 3rd run-up: Vietnam, Daniela Thu May Nguyenova
* 4th run-up: United States, Krystelle Khoury
Continental Winners
* Africa: South Africa, Dhesha Jeram
* Europe: France, Analisa Kebaili
* America: Dominican Republic, Sofinel Baez Santos
* Asia & Oceania: India, Michelle Almeida
Top 20 Semi-Finalist
* Brazil, Suymara Barreto Parreira
* Colombia, Tania Zuluaga Candamil
* Czech Republic, Aneta Grabcova
* Dominican Republic, Sofinel Baez Santos
* France, Analisa Kebaili
* French Polynesia, Mihilani Teixeira
* Hungary, Agnes Konkoly
* Iceland, Gudrun Runarsdottir
* India, Michelle Almeida
* Latvia, Eva Caun
* Lebanon, Daniella Rahme
* Panama, Lidia Elena McNulty Espino
* Slovenia, Suzana Matic
* South Africa, Dhesha Jeram
* Ukraine, Natalia Sitnikova
Special Awards
* Miss Photogenic: Ukraine, Natalia Sitnikova
* Best Figure: Sweden, Sara Weidenblad
* Miss Elegance: Dominican Republic, Sofinel Baez Santos
* Best National Costume: Brazil, Suymara Barreto Parreira
* Miss Talent: Bahamas, Sharie Delva
* Miss Top Model: Slovenia, Suzana Matic
* Miss Personality: French Polynesia, Mihilani Teixeira
* Miss Friendship: Hong Kong, Elain Ng
* Miss Internet: India, Michelle Almeida
* Miss Supranational 2011 Contestants:
A-F
|
G-Q
|
R-Z