Reinas Paraguayas del Bicentenario 2011 Candidates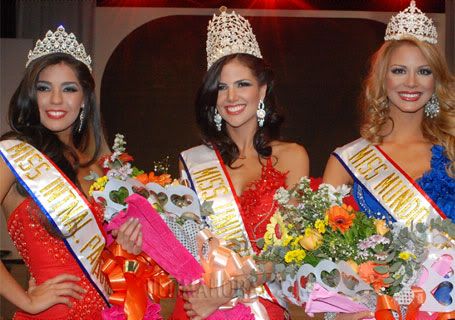 Miss Paraguay 2011 or locally known as Reinas Paraguayas del Bicentenario 2011 beauty contest will be held on June 23 at Telefuturo's Main Studio in Asuncion and broadcasted live by Telefuro (Canal 4).

The reigning Reinas Paraguayas 2010 winners, Yohana Benitez, Egni Eckert and Maria Jose Paredes will crown their successors at the end of the event.

Winner of Miss Universo Paraguay 2011 / Miss Universe Paraguay 2011 will represent Paraguay at the Miss Universe 2011 beauty pageant to be held on September 12 in Sao Paulo, Brazil.

The lady who will be crowned Miss Mundo Paraguay 2011 / Miss World Paraguay 2011 will be competing in Miss World 2011 beauty contest on November 6 in London, UK.

And the winner of Miss Internacional Paraguay 2011 / Miss International Paraguay 2011 will enter the Miss International 2011 beauty contest to be held on October 23 in Chengdu, China.

Reinas Paraguayas del Bicentenario 2011 Contestants:

Stephania Sofia Vazquez Stegman



Alba Lucia Riquelme Valenzuela



Karina Gizelle Arguello Szabo



Mirian Noemi Sosa Colman



Lourdes Maria del Carmen Motta Rolon



Maria Guadalupe Gonzalez Talavera



Coral Ruiz Reyes



Myrian Leticia Patino Arguello



Nicole Elizabeth Huber Vera



Mariela Magdalena Mora Roa



Maria Angela Recalde Ramirez



Alexandra Helena Fretes Galeano



Daisy Eliana Sanabria Benitez



Heallen Grace Mariel Benitez Ozcariz



Rosci Luz Mendoza Chaparro



Giselle Maria Alice Meyer Meza



Paola Monserrat Lopez Dure



Maria Alejandra Zaldivar Rojas



Nadia Yasmine Servian
*
Meet the Winners!