Miss Mondo Italia 2011 Official Candidates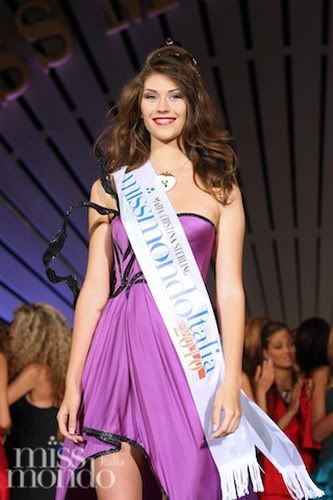 Miss World Italy 2011 or locally known as Miss Mondo Italia 2011 beauty pageant will take place on June 11.
Giada Pezzaioili, Miss Mondo Italia 2010
(photo above) will crown her successor at the end of the contest.
The new winner will represent
Italy
in
Miss World 2011
beauty contest on November 6 in
London, UK
.
Miss World Italy 2011 / Miss Mondo Italia 2011 Contestants:

01
Ilaria Cristina, 23
Studentessa


02
Gadaleta Marica, 17
Studentessa


03
Oriana Morandi, 20
Studentessa


04
Margherita Campanini, 20
Studentessa


05
Marta Frizzo, 20
Studentessa


06
Fabiola Valtolina, 19
Modella


07
Anna Di Sciacca, 22
Hostess


08
Svetlana Paoletti, 18
Studentessa


09
Marta Alexandra Antica, 20
Studentessa


10
Letizia Giannetta, 18
Studentessa


11
Melissa Pini, 20
Studentessa/Modella


12
Alice Natale, 17
Studentessa


13
Antonietta Delle Cave, 22
Segretaria


14
Jessica Bellinghieri, 23
Studentessa/Modella


15
Monica Tomasetto, 21
Studentessa


16
Francisca Ferri, 17
Studentessa


17
Elena Tomasella, 21
Studentessa/Modella


18
Marika Errico, 21
Studentessa


19
Jasmin Iacuzzo, 18
Studentessa


20
Luna Iebba, 18
Studentessa


21
Sharon Muscolino, 18
Disoccupata


22
Anna Cillo, 18
Estetista


23
Michela Galvanini, 21
Studentessa


24
Margherita Zunino, 18
Studentessa


25
Laura Paganini, 20
Studentessa


26
Laura Botto Steglia, 22
Parrucchiera


27
Marilyn Orlando, 21
Studentessa


28
Ilenia Neri, 19
Studentessa


29
Milica Zivkovic, 18
Studentessa


30
Grazia Maria Pinto, 23
Commessa


31
Keiry Guerra, 21
Indossatrice


32
Alessia Schiavo, 17
Studentessa


33
Raffaella Panico, 21
Studentessa


34
Carolina Ritossa, 19
Studentessa


35
Marika Diminutto, 26
Studentessa


36
Sara Grandini, 22
Studentessa


37
Maria Grazia Amatuzzo, 23
Studentessa


38
Erica Tiburzi, 20
Modella


39
Nancy Bernacchia, 19
Studentessa


40
Martina Sarcone, 18
Studentessa


41
Georgia Nicoletti, 17
Studentessa


42
Deborah Gambarini, 17
Commessa


43
Valeria Gaggiano, 20
Impiegata


44
Maria Luigia Bove, 19
Studentessa


45
Alice Viglioglia, 21
Attrice


46
Ilaria Ometto, 20
Studentessa


47
Valentina Di Pierro, 22
Studentessa


48
Tania Bambaci, 21
Studentessa


49
Francesca Pedemonte, 22
Fotomodella


50
Marta Baglivo, 20
Studentessa


51
Diana Targa, 17
Studentessa


52
Eleonora Cilia, 23
Studentessa

*
Tania Bambaci wins