Miss Italia nel Mondo 2011 Candidates (Batch 1)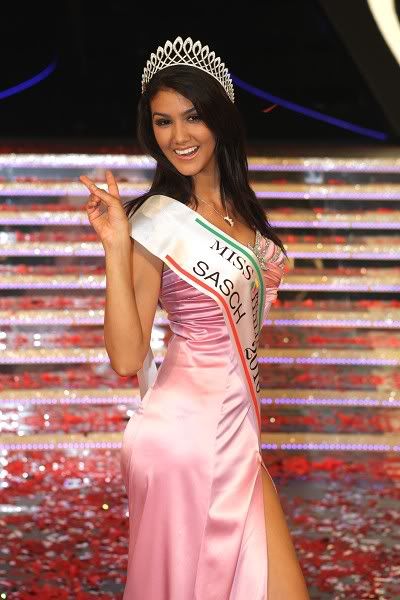 Miss Italy in the World 2011 or locally known as Miss Italia Nel Mondo 2011 beauty pageant will take place at Reggio di Calabria on July 4.
Kimberly Castillo Mota, Miss Italia Nel Mondo 2010
(photo above) will crown her successor at the event.
Miss Italia nel Mondo, celebrating it's 21st year is an Italian beauty pageant for women of Italian heritage which has been held since 1991.
Miss Italia nel Mondo 2011 / Miss Italy in the World 2011 Delegates (Batch 1):
| | | | |
| --- | --- | --- | --- |
| 01 - Amazzonia - Silvia Novais | 02 - Andorra - Serena Rivaroli | 03 - Belgium - Livia Natalini | 04 - Repubblica Dominicana - Dulcita Lieggi |
| 05 - Argentina - Valentina Di Paola | 06 - Hungary - Isabella Di Capri | 07 - Caribbean - Josireth Linares | 08 - Brasile - Priscylla Vitorassi |
| 09 - Australia - Sarah Lo Bianco | 10 - Benelux - Priscilla Vandevelde | 11 - Spain - Iride Fontana | 12 - United States New York - Elise Mosca Baleari |
| 13 - Argentina Buenos Aires - Micaela Bianchi | 14 - Switzerland - Federica Raineri | 15 - United States - Hannah Sciara | 16 - Canada - Daniella Delgado |
| 17 - Slovenia - Katarina Odar | 18 - South America - Isolina Boero | 19 - Uruguay - Valeria Soledad Ferreira | 20 - Venezuela - Angela La Padula |
* Miss Italia Nel Mondo 2011 Finalists:
Batch 1
|
Batch 2
*
Silvia Novais wins