Nicole Faria, Miss Earth 2010: Proudly Indian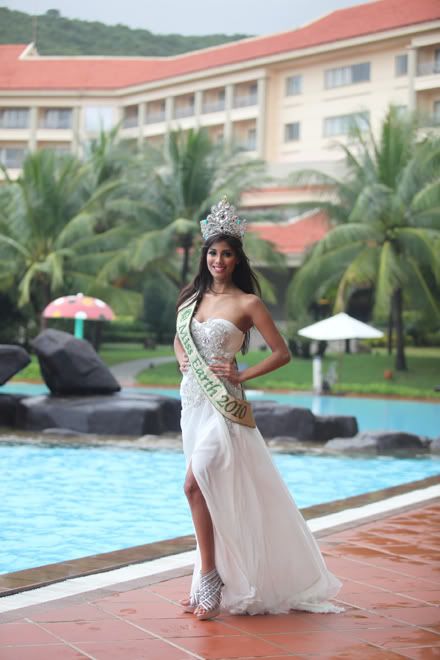 She's all of 20, but she's already won the "earth" over with her beauty, poise and confidence. Bengaluru hudugi
Nicole Faria
has made us proud by bagging the
Miss Earth 2010
title in Vietman. Her family and friends are overjoyed. The hottie is after all, the first Indian to clinch the Miss Earth title!
Nicole's father Ian Faria says, "We are satisfied more than anything else. Nicole's done a good job and we are elated. Seeing the crown is a different feeling. We were sure she'd win, but we knew the judges had to be sure too! It's great to see updates about her on Facebook and other sites."
Ian says that his wife Anita was completely emotional after the win and Nicole's brother Craig was jumping out of his seat! "My sister and brother-in-law came from the US. We did the maximum shouting for Nicole. They were hardly any Indians; it was mostly filled with Filipinos and Vietnamese."
Right now, Nicole's plans will include fulfilling her Miss Earth commitments, including travelling the world. "She wants to do something for the environment. She's a warm and loving person. She'll do very well in this role," adds Ian.
Nicole is a league apart, believes Nicole's close friend Aviva Bidapa. "There was no doubt in anybody's mind that she'd win the title. She had no competition. She won it, and that too at just 20!" she smiles.
Aviva believes that Nicole has the diversity, face and body that will make her one of the best, internationally too. When asked about Nicole's 'resemblance' to Freida Pinto, Aviva says, "I think Freida resembles Nicole and not the other way round!"
After such a huge accomplishment, how can her mentor Prasad Bidapa not be thrilled? "Nicole has been winning whichever contest she entered. I was confident that she'd win. She's been working since she was 15 and she's well-trained. She started modelling as a hobby and then took it up seriously. Her clothes had not come together, but later, everything fell into place," he reveals.
Prasad thinks Nicole should take up an international career rather than getting stuck in Bollywood. "I want her to get out of the cliché. Her parents were ecstatic after the win. I SMSed her before the contest and told her to stay calm and focused," he adds.
Having been with her through college, Nicole's pal Niyata D is thrilled about Nicole's mammoth achievement. "It's been her dream ever since we've known her. We studied at Mount Carmel College. She knew what she wanted and worked hard. Her friendly, fun and helpful traits have helped her," says Niyata.
After winning the
Pantaloons Femina Miss India Earth 2010
title, Nicole had told us earlier that she wanted to be an international superstar. "I'd like to leave a mark and be remembered for something good," she had said. Well, looks like you're a step closer to your goals, Nicole!
Special Thanks to SamRaj.
*
Miss Earth 2010 Complete Coverage