Senorita Colombia 2010 Candidates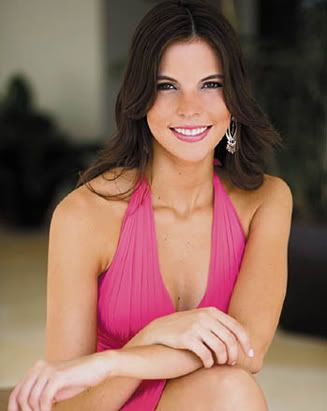 Miss Colombia 2010 or locally known as Senorita Colombia 2010 / Srta. Colombia 2010 beauty pageant will take place on November 15 in Cartagena de Indias.
Miss Colombia 2009, Natalia Navarro Galvis
(photo above) will crown her successor at the end of the event.
The new winner will represent
Colombia
at
Miss Universe
2011. And the 1st run-up will compete at
Miss International
2011 beauty pageant.
Miss Colombia 2010 Official Contestants:

Antioquia
Natalia Isabel Gallo Jaramillo
Age: 21
Height: 1.77m
Hometown: Medellin
Vital Stats: 87-66-94



Atlantico
Laura Victoria Jesurun Saade
Age: 21
Height: 1.75m
Hometown: Barranquilla
Vital Stats: 88-60-92



Bogota
Diana Juliette Mina Tocora
Age: 20
Height: 1.75m
Hometown: Riohacha
Vital Stats: 83-60-90



Bolivar
Tatiana Najera Cardona
Age: 22
Height: 1.74m
Hometown: Cartagena de Indias
Vital Stats: 87-66-95



Caldas
Gloria Daniela Castellanos Marin
Age: 21
Height: 1.70m
Hometown: Manizales
Vital Stats: 85-60-90



Cartagena
Karen Margarita Visbal Barrios
Age: 21
Height: 1.75m
Hometown: Cartagena de Indias
Vital Stats: 86-60-93



Cauca
Annie Violeta Bergonzi Gomez
Age: 22
Height: 1.77m
Hometown: Paris
Vital Stats: 90-62-95



Cesar
Marisabella Mendoza Cabello
Age: 24
Height: 1.70m
Hometown: Valledupar
Vital Stats: 85-62-93



Choco
Astrid Vanessa Fernandez Murillo
Age: 20
Height: 1.77m
Hometown: Medellin
Vital Stats: 90-65-96



Cordoba
Marcia Jones Brango
Age: 21
Height: 1.70m
Hometown: Monteria
Vital Stats: 90-62-98



Cundinamarca
Ana Maria Santa Caldas
Age: 19
Height: 1.73m
Hometown: Cartagena de Indias
Vital Stats: 85-62-94



Guajira
Vanessa Sofia Duran Daza
Age: 22
Height: 1.73m
Hometown: Baranquilla
Vital Stats: 87-61-100



Huila
Natalia Valenzuela Cutiva
Age: 21
Height: 1.77m
Hometown: Neiva
Vital Stats: 86-64-92



Magdalena
Lizeth Carolina Gonzalez Romero
Age: 24
Height: 1.75m
Hometown: Santa Marta
Vital Stats: 90-66-98



Meta
Nohora Zamira Restrepo Castro
Age: 20
Height: 1.71m
Hometown: Santa Marta
Vital Stats: 89-60-92



Narino
Estefany Ceballos Montenegro
Age: 18
Height: 1.75m
Hometown: Ipiales
Vital Stats: 92-65-97



Norte de Santander
Dayana Zamar Delgado Contreras
Age: 23
Height: 1.70m
Hometown: San Jose de Cucuta
Vital Stats: 84-60-94



Quindio
Karen Lizeth Gutierrez Gonzalez
Age: 20
Height: 1.79m
Hometown: Armenia
Vital Stats: 90-61-93



Risaralda
Veronica Yepes Uribe
Age: 22
Height: 1.72m
Hometown: Pereira
Vital Stats: 85-62-90



San Andres
Luisa Fernanda Gallardo Canchila
Age: 22
Height: 1.71m
Hometown: San Andres
Vital Stats: 88-64-92



Santander
Laura Melissa Patino Contreras
Age: 22
Height: 1.75m
Hometown: Bucaramanga
Vital Stats: 90-63-92



Sucre
Maria Paulina Castro Monterroza
Age: 24
Height: 1.69m
Hometown: Sincelejo
Vital Stats: 89-63-95

Tolima
Nicole Suarez Campos
Age: 19
Height: 1.67m
Hometown: Park Ridge, Illinois
Vital Stats: 85-66-97

Valle
Maria Catalina Robayo Vargas
Age: 21
Height: 1.75m
Hometown: Cali
Vital Stats: 87-63-96
*
Natalia Valenzuela Cutiva won Best Body
*
Natalia Valenzuela Cutiva won Reina de la Policia
*
Top 10 Semi-Finalists
*
Miss Valle, Maria Catalina Robayo wins Senorita Colombia 2010
*
Watch videos of the Pageant