Miss Georgia USA 2011 Official Contestants
Miss Georgia USA 2011 will be crowned on November 20, 2010, at Woodland Performing Arts Center in Cartersville, Georgia.
Miss Georgia USA 2010, Cassady Lance
(photo above) will pass her crown to her successor at the end of the pageant.
The new winner will represent Georgia in Miss USA 2011 beauty pageant to be held in next year 2011.
Meet Miss Georgia USA 2011 Candidates:

Angelina Tadic, Miss Acworth USA | Zarina Miles, Miss Atlanta Peach USA | Amanda Tomlinson, Miss Augusta USA | Kayla Cannon, Miss Bartow County USA | Ki-Anna Drayton, Miss Bravura USA | Crystal Hopkins, Miss Buckhead USA | Lacey Greenway, Miss Bulloch County USA | Jamie Kelton, Miss Capital City USA | Brittany VanHorn, Miss Cartersville USA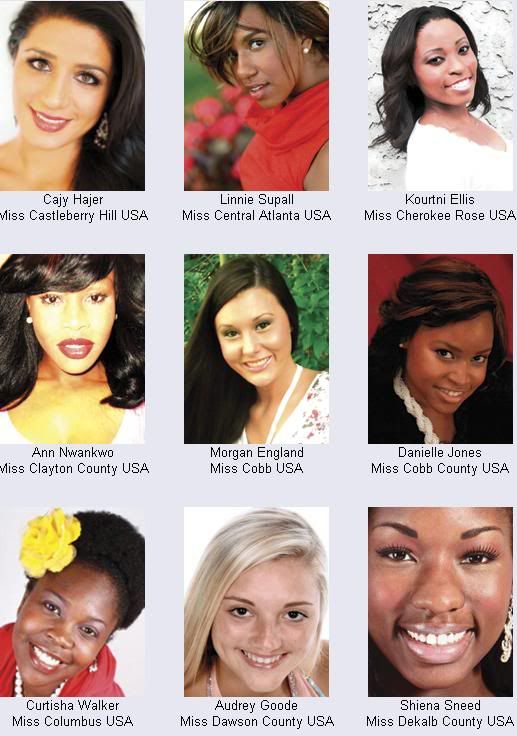 Cajy Hajer, Miss Castleberry Hill USA | Linnie Supall, Miss Central Atlanta USA | Kourtni Ellis, Miss Cherokee Rose USA | Ann Nwankwo, Miss Clayton County USA | Morgan England, Miss Cobb USA | Danielle Jones, Miss Cobb County USA | Curtisha Walker, Miss Columbus USA | Audrey Goode, Miss Dawson County USA | Shiena Sneed, Miss Dekalb County USA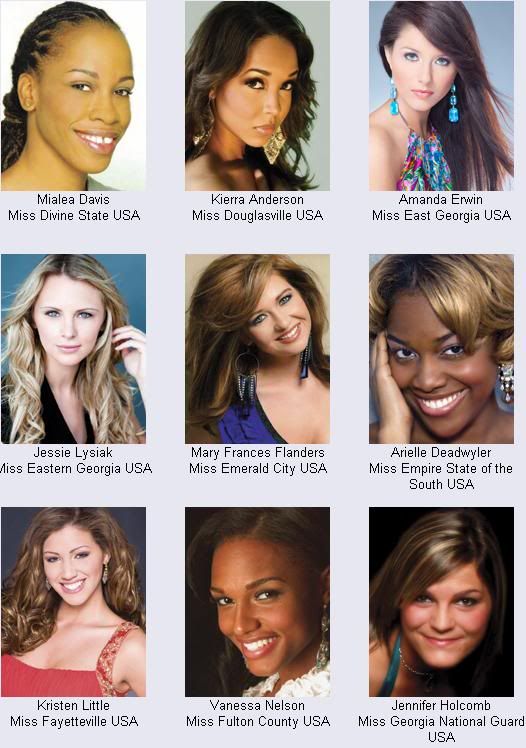 Mialea Davis, Miss Divine State USA | Kierra Anderson, Miss Douglasville USA | Amanda Erwin, Miss East Georgia USA | Jessie Lysiak, Miss Eastern Georgia USA | Mary Frances Flanders, Miss Emerald City USA | Arielle Deadwyler, Miss Empire State of the South USA | Kristen Little, Miss Fayetteville USA | Vanessa Nelson, Miss Fulton County USA | Jennifer Holcomb, Miss Georgia National Guard USA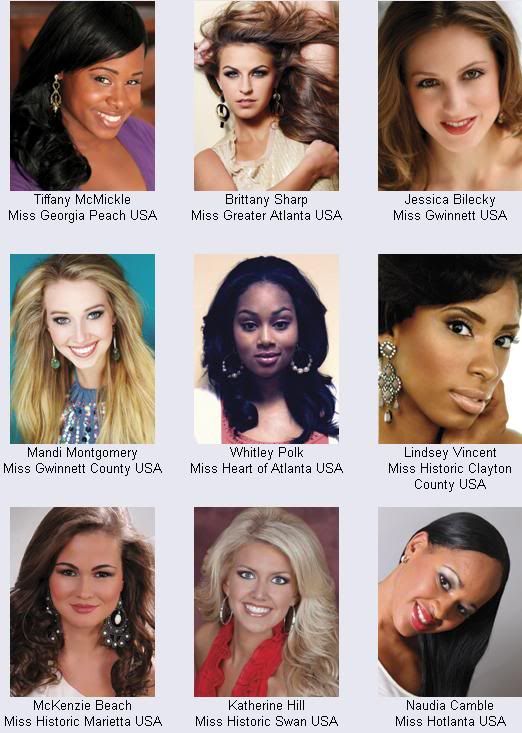 Tiffany McMickle, Miss Georgia Peach USA | Brittany Sharp, Miss Greater Atlanta USA | Jessica Bilecky, Miss Gwinnett USA | Mandi Montgomery, Miss Gwinnett County USA | Whitley Polk, Miss Heart of Atlanta USA | Lindsey Vincent, Miss Historic Clayton County USA | McKenzie Beach, Miss Historic Marietta USA | Katherine Hill, Miss Historic Swan USA | Naudia Camble, Miss Hotlanta USA



Mariah Fratus, Miss Houston County USA | Brittany Rowland, Miss Jeff Davis USA | Brina Potvin, Miss Johns Creek USA | Sara Wilson, Miss Kennesaw USA | Malone Galster, Miss LaGrange USA | Macie Swann, Miss Lake Lanier USA | Ashley Jeffers, Miss Lawrenceville USA | Victoria Howard, Miss Lawrenceville Georgia Beauty USA | Vallon Douthit, Miss Lilburn USA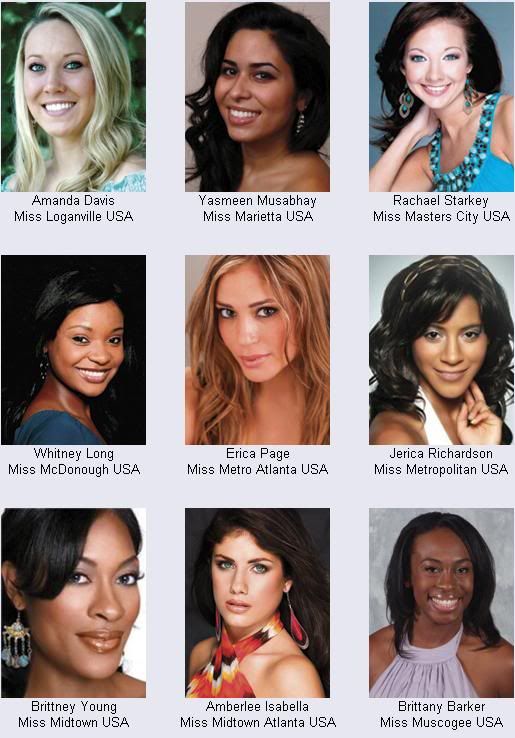 Amanda Davis, Miss Loganville USA | Yasmeen Musabhay, Miss Marietta USA | Rachael Starkey, Miss Masters City USA | Whitney Long, Miss McDonough USA | Erica Page, Miss Metro Atlanta USA | Jerica Richardson, Miss Metropolitan USA | Brittney Young, Miss Midtown USA | Amberlee Isabella, Miss Midtown Atlanta USA | Brittany Barker, Miss Muscogee USA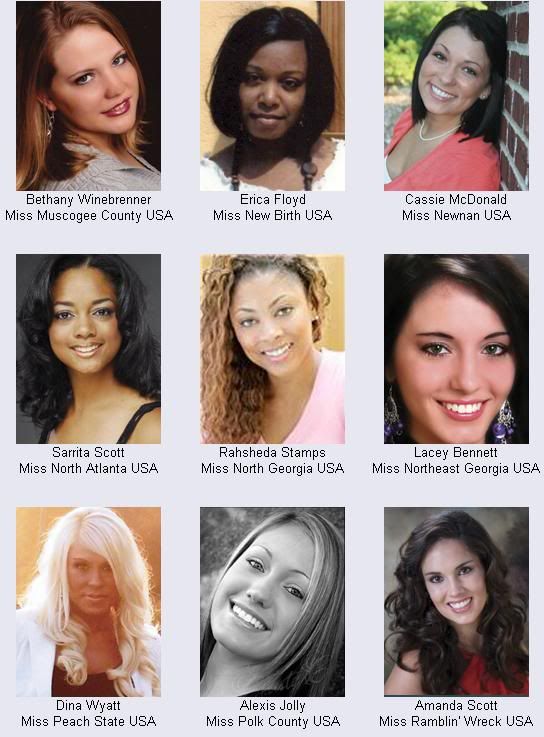 Bethany Winebrenner, Miss Muscogee County USA | Erica Floyd, Miss New Birth USA | Cassie McDonald, Miss Newnan USA | Sarrita Scott, Miss North Atlanta USA | Rahsheda Stamps, Miss North Georgia USA | Lacey Bennett, Miss Northeast Georgia USA | Dina Wyatt, Miss Peach State USA | Alexis Jolly, Miss Polk County USA | Amanda Scott, Miss Ramblin' Wreck USA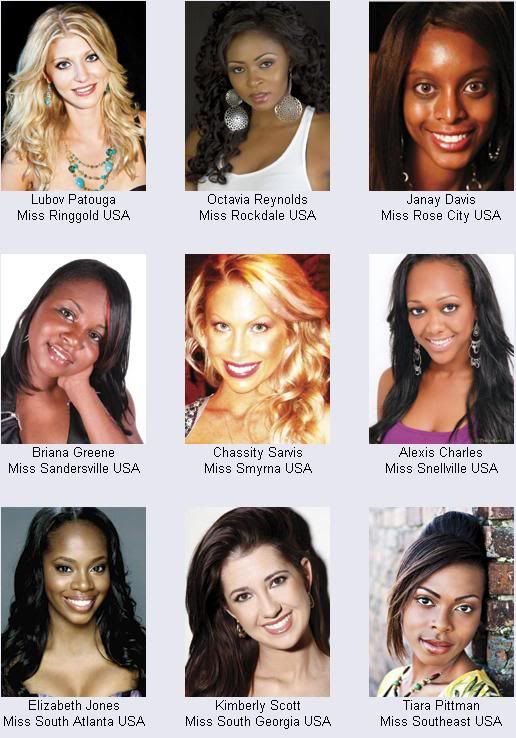 Lubov Patouga, Miss Ringgold USA | Octavia Reynolds, Miss Rockdale USA | Janay Davis, Miss Rose City USA | Briana Greene, Miss Sandersville USA | Chassity Sarvis, Miss Smyrna USA | Alexis Charles, Miss Snellville USA | Elizabeth Jones, Miss South Atlanta USA | Kimberly Scott, Miss South Georgia USA | Tiara Pittman, Miss Southeast USA



Asia Turner, Miss Southwest Atlanta USA | Kimberly Perez, Miss Southwest Georgia USA | Dominique Daniels, Miss Spelman College USA | Christi Lee, Miss Stone Mountain USA | Kaylin Reque, Miss Suwanee USA | Carla Hornbeak, Miss Vinings USA | Meagan Lemonds, Miss Walton County USA
*
Kaylin Reque crowned Miss Georgia USA 2011