Lizzy Raya (Kansas) wins America's US Teen 2010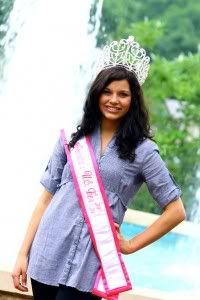 Miss Kansas, Lizzy Nicole Raya was crowned America's U.S. Teen 2010-2011. She's one of the seven children and have really enjoyed growing up in a "big" family. Her mom has home-schooled her which has helped her family bond closer together. One great accomplishment she have made over the past two years is shedding 50 Ibs. Going from a size 15 to 4. It took determination and will power, but with her family by her side I accomplished it. Some things she really enjoy doing are singing, exercising, photography, modeling, and volunteering. She plan on getting more involved in the community this year with her title.



This pageant has opened up a whole new world for Lizzy Nicole Raya. "Megan you are such a blessing to me, I can't thank you enough for this opportunity. While at nationals I made some great friends, which I believe will be life long friendships. I see this pageant system going far, it lets you be yourself. The judges were friendly and I felt at ease talking to them. I am looking forward to hanging out with Megan and my pageant sisters this year, bring on the photo shoot and the cruise. Thanks again to everyone involved in AUS, Megan you are a great role model and I hope to be as well." -Lizzy Nicole Raya.
* Back to:
2010 America's U.S. National Winners