Alexis Schroeder (Iowa) wins America's US Tween 2010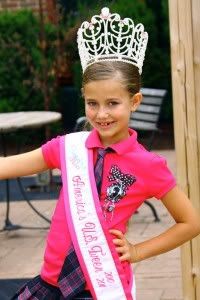 9 year old Alexis Schroeder was crowned as the new America's US Tween 2010. She will be a forth grader this coming fall. She lives on a farm in eastern Iowa. Alexis Schroeder enjoys dancing, twirling baton, volunteering at the Wheatland Manor nursing home, 4-wheeling, and spending time with family and friends. Lexie loves to be on stage and performing for people. Since doing pageants she has meant so many new friends and has learned so much about what it takes to be successful.



"My experience at nationals was awesome! Not just because I was crowned the new tween queen, but that I meant the most amazing people I could have ever meant. I learned that being myself is really ok. Not everyone needs to be the same. This pageant was all about being unique and that is what I like to do. Having spent a lot of time with all the girls I saw that everyone has something special about themselves and that makes everyone a winner!" - Alexis Schroeder.
* Back to:
2010 America's U.S. National Winners