Darling of the Press Award | Miss Earth 2012
The 68 delegates were conferred to the local and international media during the press presentation for
Miss Earth 2012
took place on November 6 at the Best Western F1 hotel in Taguig City.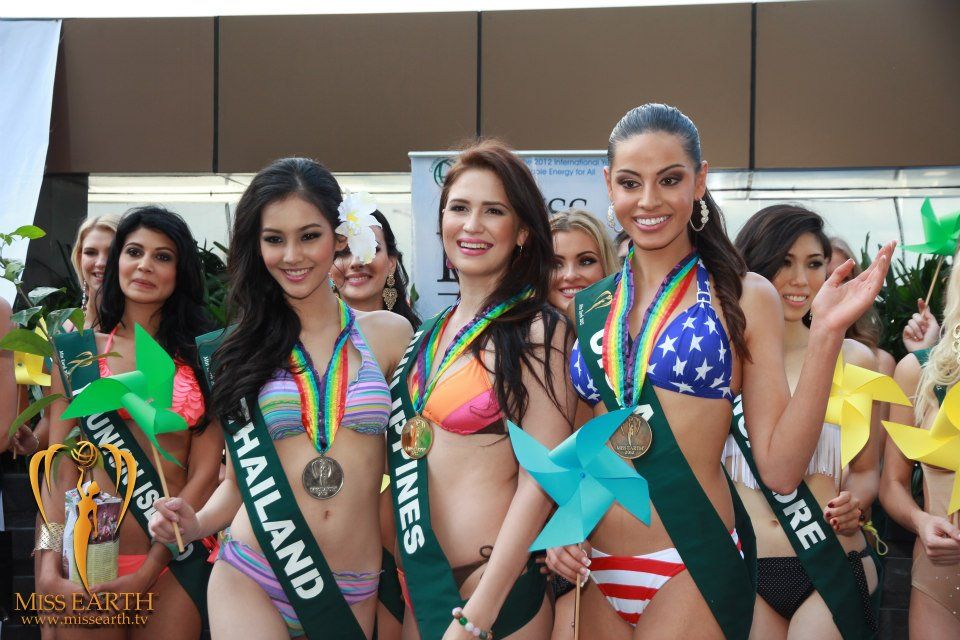 Another special award named as the
Darling of the press
voted by members of the media have selected and rewarded the Gold medal to Miss Philippines,
Stephany Stephanowitz
. In 2nd place and Silver medalist was Thailand's Waratthaya Wongchayapornwon. And the Bronze medal was won by Siria Bojorquez of the USA.
Gracing the event was Miss Earth-Water 2011, Athena Imperial.
PRESS PRESENTATION PHOTO GALLERY:

Miss Argentina
Tatiana Maria Bischof



Miss Australia
Jenna Seymour



Miss Austria
Sandra Seidl



Miss Belgium
Madina Hamidi



Miss Belize
Jessel Lauriano



Miss Bosnia Herzegovina
Zerina Sirbegovic



Miss Botswana
Lorraine Ditsebe



Miss Brazil
Camila Brant



Miss Canada
Valerie Remillard



Miss Chinese Taipei
Jen-Ling Lu



Miss Colombia
Cindy Kohn-Cybulkiewicz



Miss Cook Islands
Teuira Napa



Miss Costa Rica
Fabiana Granados



Miss Crimea
Liudmyla Kuzmina



Miss Czech Republic
Tereza Fajksova



Miss Denmark
Belinda Jensen



Miss El Salvador
Ingrid Yaritza Rivera



Miss England
Zahida Begum



Miss Fiji
Esther Foss



Miss Finland
Kristiina Maria Airi



Miss Germany
Nel-Linda Zublewitz



Miss Guam
Sarah Elizabeth Filush



Miss Guatemala
Stefany Miranda



Miss Honduras
Odily Alvarenga



Miss India
Prachi Mishra



Miss Indonesia
Chelsy Liven



Miss Italy
Giulia Capuani



Miss Japan
Megumi Noda



Miss Kenya
Fiona Konchellah



Miss Korea
Sara Kim



Miss Malaysia
Deviyah Daranee



Miss Malta
Yasmin Falzon



Miss Mexico
Lourdes Paola Aguilar



Miss Moldova
Aliona Chitoroaga



Miss Mongolia
Battsetseg Turbat



Miss Nepal
Nagma Shrestha



Miss Netherlands
Shauny Bult



Miss New Zealand
Gloria Blake



Miss Nicaragua
Braxis Alvarez



Miss Northern Ireland
Ciara Walker



Miss Norway
Nina Fjalestad



Miss Pakistan
Zanib Naveed



Miss Panama
Ana Lorena Ibanez



Miss Paraguay
Alexandra Fretes



Miss Philippines
Stephany Stefanowitz



Miss Poland
Justyna Helena Rajczyk



Miss Puerto Rico
Darli Pacheco



Miss Reunion
Aisha Valy



Miss Russia
Natalia Pereverzeva



Miss Scotland
Sara Pender



Miss Singapore
Phoebe Tan



Miss Slovak Republic
Martina Gresova



Miss Slovenia
Anjeza Barbatovci



Miss South Africa
Tamerin Michelle Jardine



Miss Sweden
Camilla Hansson



Miss Switzerland
Lea Sara Wittwer



Miss Tanzania
Bahati Chando



Miss Thailand
Waratthaya Wongchayaporn



Miss Trinidad Tobago
Amryl Nurse



Miss Turkey
Ilknur Melis Durasi



Miss Ukraine
Ievgeniia Prokopenko



Miss Uruguay
Cynthia Kutscher



Miss USA
Siria Ysabel Bojorquez



Miss US Virgin Islands
Carolyn Whitney Carter



Miss Venezuela
Osmariel Villalobos

Miss Vietnam
Do Hoang Anh

Miss Wales
Zoe Jade Kinsella

Miss Zimbabwe
Dimitra Markou
*
Miss Earth 2012 Complete Coverage