Candidates of Miss Intercontinental 2010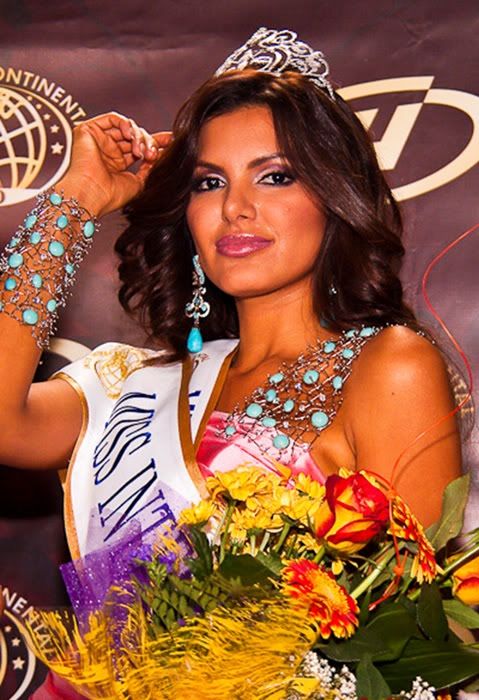 Miss Intercontinental 2010 beauty pageant will be held on November 6 at the "TAINO" Theatre of the Barcelo Punta Cana in Dominican Republic.
Sixty-three official delegates will compete for the title, the highest turnout in 50 years of history. The contestants arrived in Punta Cana Dominican Republic on October 25 and 26.
Miss Intercontinental 2009, Hannelly Quintero
(photo above) from
Venezuela
will crown her successor at the end of the event.
Miss Intercontinental 2010 Contestants:

Miss Algeria
Meriyam Zigh



Miss Andorra
Bianca Perez



Miss Argentina
Micaela Bianchi Lopez



Miss Armenia
Inessa Tadevosyan



Miss Australia
Sarah Poke



Miss Austria
Ivana Thaller



Miss Bahamas
Anastagia Pierre



Miss Belarus
Hanna Kindruk



Miss Bolivia
Patricia Castellon Siles



Miss Bonaire
Benazir Berends Charles



Miss Brazil
Bruna Jaroceski



Miss Bulgaria
Nelly Angelova



Miss Canada
Heather Ellis



Miss Colombia
Macrielena Velez Sanchez



Miss Costa Rica
Maria Fernanda Arias



Miss Cuba
Viglis Viquillon



Miss Curacao
Marvelin Hous



Miss Czech Republic
Viviane Dusilova



Miss Denmark
Camilla Bay Jakobsen



Miss Dominican Republic
Olga Lidia Navarro Santos



Miss England
Jessica Rose



Miss Georgia
Nana Gogichaishvili



Miss Germany
Katharina Schonau



Miss Ghana
Essel Abena Poriia



Miss Greece
Paraskevi Chatzigianni



Miss Guadeloupe
Whitney Bon



Miss Honduras
Linda Kennett



Miss Hungary
Krisztina Pasztor



Miss Jamaica
Kerry Moxam



Miss Kazakhstan
Sabina Sadvakasova



Miss Korea
Chang Yoon Jin



Miss Kosovo
Linda Miftaray



Miss Latvia
Oksana Uzgalova



Miss Lebanon
Nathaly Farraj



Miss Luxembourg
Dina Freitas



Miss Macedonia
Biljana Shkortova



Miss Mali
Linda Sanogu



Miss Malta
Tanita Vella



Miss Martinique
Yael Souchette



Miss Mexico
Alejandra Balderas Flores



Miss Moldova
Natalia Ivanova



Miss Montenegro
Lola Mugosa



Miss Netherlands
Sushma Pahladsing



Miss Panama
Genesis Vergara



Miss Paraguay
Maura Rojas Cantero



Miss Peru
Karen Susana Schwarz



Miss Philippines
Christi Lynn McGarry



Miss Poland
Izabel Wilczek



Miss Puerto Rico
Maydelise Columna



Miss Romania
Alina Clapa



Miss Samoa
Danielle Lelo



Miss Serbia
Sanja Radinovic



Miss Spain
Irene Olivares Mora



Miss Swiss (Switzerland)
Sira Topic



Miss Taiwan ROC
Chen Yao Chu



Miss Thailand
Pimpawan Bunjongsiri



Miss Tonga
Mary Greatz



Miss Trindidad & Tobago
Shardina Jordan



Miss Ukraine
Liliya Penova



Miss US of America (USA)
Mandy Grisham



Miss Venezuela
Flory Diez

Miss Zambia
Percivia Chimfwembe Mulenga

Miss Zimbabwe
Vanessa Gayle Sibanda
*
Maydelise Columna, Miss Puerto Rico wins Miss Intercontinental 2010