Myriam Janeth Abreu Medfina of Venezuela wins Miss Tourism Intercontinental 2010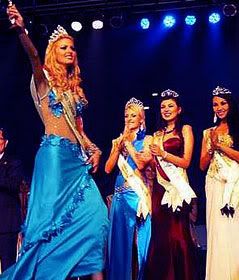 Miss Venezuela, Myriam Janeth Abreu Medfina won the title of Miss Tourism Intercontinental 2010 beauty pageant held in Miri indoor stadium at Miri City, Malaysia. She was crowned by Sarawak Deputy Chief Minister Tan Sri Dr George Chan.
The 22 year old beauty beat other 32 international delegates competed for the crown.
The 1st runner-up was Miss Australia, Kelly Louise Maguire. She is a
candidates
at the
Miss International 2009
contest.
The 2nd runner-up place went to Miss America (USA), Amy Diaz. She is
Miss Earth USA 2009
winner and one of the
contestants
of
Miss Earth 2009
pageant.
Miss Belarus and Miss Thailand completed out the top 5 finalists.
In the top 10 semi-finalists were Miss Brazil, Miss Latvia, Miss Tunisia, Miss Malaysia (Darcia Marselynna) and Miss Philippines (Wendy Lucas).
The Best Evening Gown award went to Miss Mexico, Leslie Ines Quezada Bueno while the Best in National Costume went to Miss Netherlands, Djamila Celina Mercherts.
Subsidiary award of Miss Congeniality went to Miss Malaysia, Darcia Marselynna. And the Best Talent title went to Miss Germany, Klaudia Domagalska.