Laura Palacio - Miss World Colombia 2010
Miss World 2010 Beauty Pageant
Candidates / Contestants
Miss Colombia
Laura Palacio
Age: 23
Height: 5'8.5"
Hometown: Medellin
Laura Palacio Restrepo was crowned
Miss Mundo Colombia 2010
.
BIOGRAPHY
Laura, an Ambassador of the United Nations, has a Degree in Fashion and aspires to create her own name as a fashion designer. Hobbies include: Rafting, Cycling, Jogging, Watching Movies and Listening to Music. Personal Motto: 'If you work hard and with your hearts dream will become true...'
INTERVIEW
Favourite Music / Books ?
My favourite music is Colombian as with Shakira and in books I love design books.
What is the proudest moment of your life or most memorable day?
The day I became ambassador of the United Nations for the prevention of slave trade and to speak to young people about it.
Describe yourself
I am a sensible woman, with solidarity and with solid principles. I love to share with my family and friends life.
Favourite food ?
My favourite food is healthy food, salads, seafood and fruits and vegetables.
Do you have any pets ?
In the place I live there are many birds that fly freely around. I feed them with some food & water.
Future ambitions ?
To become the first Colombian to obtain the Miss World title and to be an ambassador of Beauty with a Purpose in the world.
Special Talents ?
Designer!!
Tell us a little something about your Country ?
My country is full of diversity, great nature, warm and working people.
Photos: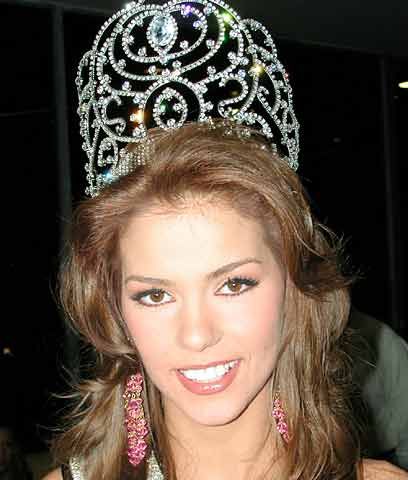 * Back to Miss World 2010 Delegates:
Batch A-D
/
Batch E-K
/
Batch L-P
/
Batch Q-Z