Johana Benitez Olmedo wins Miss Universe Paraguay 2010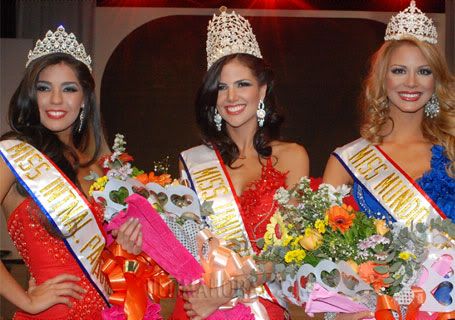 23 year old Johana Benitez Olmedo from Asuncion was crowned as Miss Universo Paraguay 2010 / Miss Universe Paraguay 2010 on July 16. She was crowned by
Mareike Baumgarten, Miss Universe Paraguay 2009
.
Johana Benitez Olmedo stands 5'9" tall and will represent Paraguay at
Miss Universe
2010 on August 23 to be held in
Las Vegas, Nevada, USA
.
Egni Almiron Eckert was named as Miss World Paraguay 2010 / Miss Mundo Paraguay 2010. She is 22 years old and stands 6' tall. Egni Almiron Eckert will compete at
Miss World
2010 beauty pageant in
Sanya, China
on October.
Elected as Miss International Paraguay 2010 / Miss Paraguay Internacional 2010 was Maria Jose Paredes from Asuncion. She is 19 years of age and stands 5'8" tall. Maria Jose Paredes will represent her country at
Miss International
2010 to be held in
Chengdu, China
.
Larissa Villalba, Magdalena Estigarribia, Andrea Arevalos and Jisela Amaro were the 1st, 2nd, 3rd and 4th runners-up respectively.
*
Miss Universe / Universo Paraguay 2010 Candidates