South Africa's Rolene Strauss crowned Miss World 2014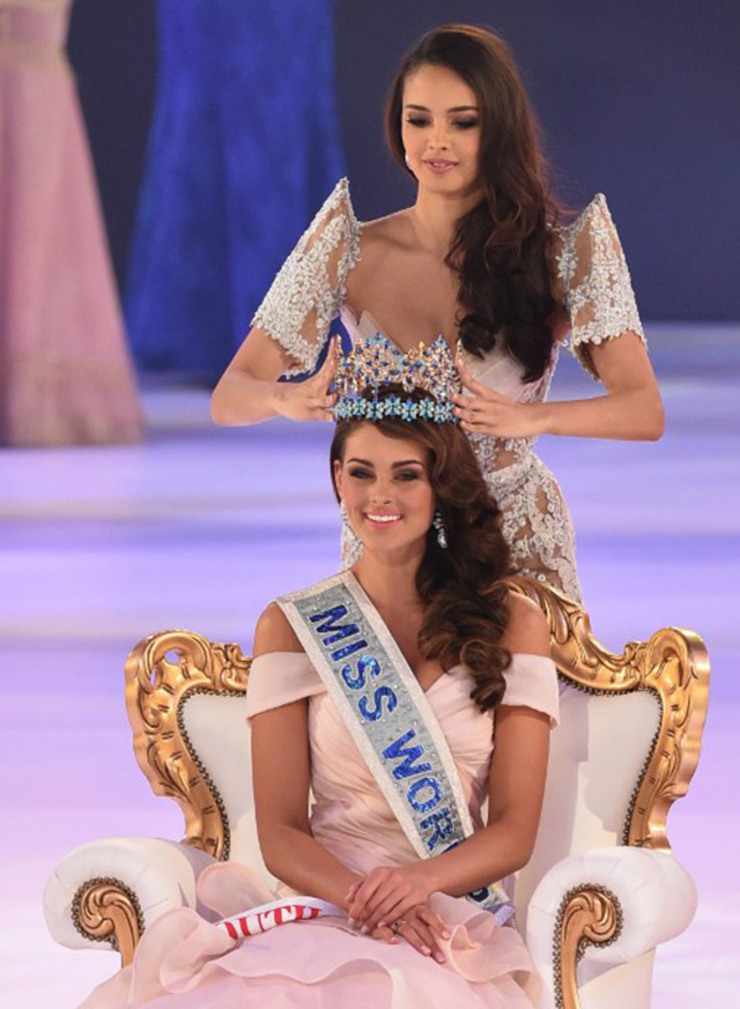 Early favorite by fans since the candidates arrived in London,
Rolene Strauss of South Africa
ended to be the winner of
Miss World 2014
which took place last December 14 at the Excel Theatre, in London, England. She was crowned by the outgoing winner Megan Young, who also co-hosted the event along with Tim Vincent, Frankie Cena and Steve Douglas.
Completing the
top 5
, in 2nd place was the delightful surprise from Hungary, Edina Kulcsár, in 3rd place Miss United States, Elizabeth Safrit, followed by Miss England, Carina Tyrrell, who was 4th, and Courtney Thorpe, Miss Australia, in 5th place.
The
semi-finalists
were India, Koyal Rana, Guyana, Rafieya Husain, Brazil, Julia Gama, Kenya, Idah Nguma, Mexico, Daniela Álvarez, and Thailand, Nonthawan Thongleng.
Quarter-finalists (Top 25)
were Bolivia, Andrea Forfori, China PR, Du Yang, Dominican Republic, Dhío Moreno, Indonesia, Maria Sastrayu, Malaysia, Dewi Liana Seriestha, South Sudan, Awien Kuanyin-Agoth, Vietnam, Nguyễn Thị Loan, Finland, Krista Haapalainen, Ghana, Nadia Ntanu, Netherlands, Tatjana Maul, Philippines, Valerie Weigmann, Russia, Anastasia Kostenko, Scotland, Ellie McKeating, Sweden, Olivia Asplund, and Trinidad & Tobago, Sarah Jane Waddell.
Continental Queens of Beauty
were:
Africa – South Africa – Rolene Strauss
Americas – United States – Elizabeth Safrit
Asia – India – Koyal Rana
Caribbean – Guyana – Rafieya Husain
Europe – Hungary – Edina Kulcsár
Oceania – Australia – Courtney Thorpe
Special events winners
were:
Sports & Fitness – Finland – Krista Haapalainen
Talent – Malaysia – Dewi Liana Seriestha
Top Model – Bosnia & Herzegovina – Isidora Borovčanin
Beach Fashion – Sweden – Olivia Asplund
Multimedia – United States – Elizabeth Safrit
Beauty With a Purpose (5 winners)
:
Brazil – Julia Gama
Guyana – Rafieya Husain
India – Koyal Rana
Indonesia – Maria Sastrayu
Kenya – Idah Nguma
Rolene is the daughter of a doctor and a nurse. She's 22 years old and a fourth-year medical student, but put her studies on hold to compete. Interestingly, her childhood dreams were to become Miss South Africa, Miss World and study medicine – apparently all her dreams and goals are coming true! This is South Africa's third woman to carry the Miss World title.
See Also Miss World 2014 Complete Coverage