Soyini Fraser | Miss Guyana Earth 2010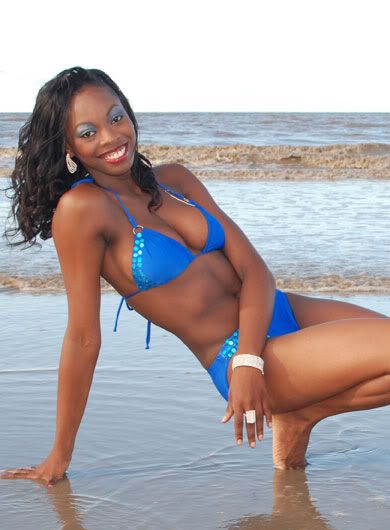 Miss Earth 2010 Beauty Pageant
Contestants

Miss Guyana
Soyini Fraser

Age: 20
Height: 180 cm.
Weight: 58 kg
Measurements: 91-66-91
Occupation: Dancer
Hometown: Georgetown



BIO:
Hailing from a generation of rich heritage and Guyanese blood flowing through my veins, coupled with the fact that my country, Guyana is one of the eight lungs of the world having 80 per cent of pristine forests comprising most of the country.

Describe your childhood when you were growing up from 8 to 13 years old.

As a child, I was always energetic and full of life. By 8 years old, I was a very active member of my school athletic team and I danced my free time away. During this time , I also lost my father but my mother made sure he was not too missed by doing all that my father would have done for me and much more. I continue into early adolescence with the same zeal I had as a child.

What lessons did you learn from your childhood/growing years?

From a tender age my parents ensured that both me and my brother had a healthy spiritual diet and this proved to be a great asset as I got older. I have always believed that every situation I encounter in life will only build my character and add to my good. I am a better person today because of my spiritual beliefs.

What is your most memorable moment?

My father had a rare disease and so he was frequently sick from time to time as I grew up. One day a few weeks before he dies, we had a very profound conversation about my dancing abilities. He disclosed to me that when he sees me on stage, I remind him so much of himself as a child. When I was on stage, I constantly wore my hair in a pony tail and that highlighted the resemblance we shared. I will always remember my father and the encouragement he gave me.

What is your environmental advocacy?

Responsible garbage disposal and recycling because Guyana does not yet have a recycling plant and I will encourage our people and those who help to recycle.
* Delegates:
Batch A-D
/
Batch E-K
/
Batch L-Q
/
Batch R-Z
*
Miss Earth 2010 Complete Coverage