Miss World 2010, Alexandria Mills Homecoming
Newly crowned
Miss World 2010
,
Miss United States, Alexandria Mills
returned to Louisville, Kentucky for her homecoming, where she was honoured with a "Proclamation for Distinguished Citizen" award by the Mayor of Louisville, Jerry Abramson.
With friends and family in attendance at the ceremony held in the Mayor's Gallery, Metro Hall, Alexandria spoke of how important it meant to her to be back home: "I am honored to be here, to be from such a wonderful place. Born and raised, I wouldn't trade it for the world and this will always be my home…Throughout this year, I want to make my country, my family and Greater Louisville proud."
Speaking of her time during the Miss World Final, she said: "While travelling in China it was wonderful to see the beautiful places and to meet the people who welcomed us with open arms. It was just great to take part in all that…I never thought in a million years i would be in China, walking on the Great Wall – I had done a report on the Great Wall in sixth grade and I had always told my family and friends it was a place I wanted to visit…"
Alexandria also reflected on her time as Miss World thus far: "To this day, I don't think it's quite set in yet; I put on the sash and crown and I'm still in awe and want to pinch myself and I think 'Oh my gosh, is this real?' but it's really amazing."
Chairman of the Miss World Organisation Julia Morley spoke about the charity work during the Miss World Final, and what was in store for Alexandria's year ahead. And Mayor Jerry Abramson commented on how appreciative he was of how she will represent Louisville all over the world.
Alexandria will now spend time in her hometown for Thanksgiving with her family before commencing the next part of her worldwide tour.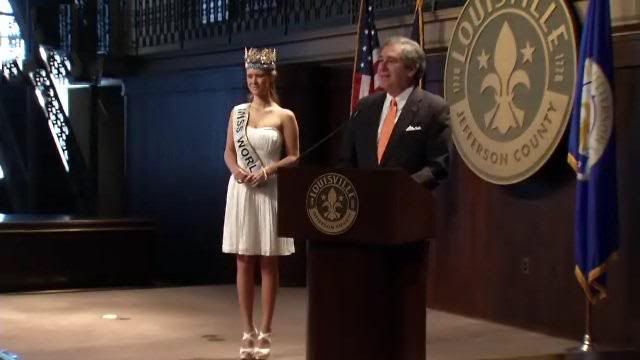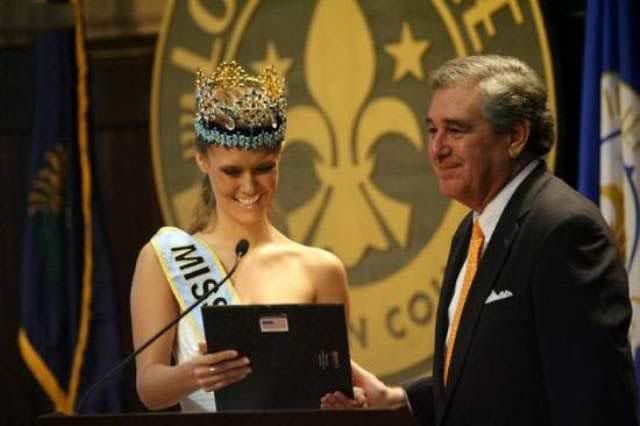 *
Miss World 2010 Coverage