Sadichha Shrestha - Miss World Nepal 2010
Miss World 2010 Beauty Pageant
Candidates / Contestants
Miss Nepal
Sadichha Shrestha
Age: 19
Height: 5'5"
Hometown: Kathmandu
Sadichha Shrestha was crowned
Hidden Treasure Miss Nepal 2010
at the Rastriya Naach Ghar National Dance Theatre in Kathmandu.
BIOGRAPHY
Sadichha is studying for an Intermediate in Science. She aspires to work in the field of Tourism. Hobbies: Travelling, Trying New Cuisines and Reading. Personal Motto: ' Positivity leads to success'.
INTERVIEW
Favourite Music / Books ?
All types of music according to my mood.
Describe yourself
I am jolly, fun loving, adventure seeker who belives in believing herself.
Favourite food ?
Dumplings, Newari food (ethnic).
Do you have any pets ?
Tortoise, Lucky. I got him on 1st September as a gift from my friends.
Future ambitions ?
Work in the field of Tourism and to contribute in the field of environment.
Special Talents ?
Cultural dance.
Tell us a little something about your Country ?
Nepal, the apostle of peace, birthplace of Lord Buddha. A small dot on the world map but the 'Roof of the world'. Dozens of world heritage sites, rich in culture and tradition. A country that truly represents 'Unity in Diversity'.
Photos: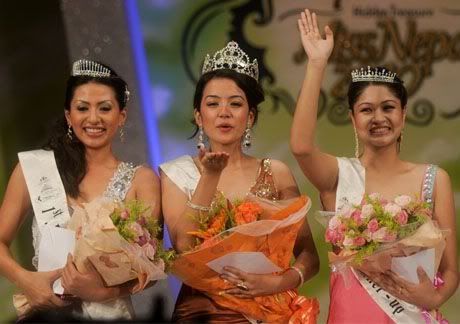 * Back to Miss World 2010 Delegates:
Batch A-D
/
Batch E-K
/
Batch L-P
/
Batch Q-Z